San Diego Wedding Planners – Type A Soirée
We had the opportunity to meet and photograph Veronica Carr, the owner of Type A Soirée. She came to our studio bright and early and without even having a cup of coffee she was bursting with energy. We could tell from the moment she sat down that being a planner is in her blood. The way she talked about what she does with such passion, it's easy to say that Veronica is a true wedding planner. We photographed her headshot and then we started with the interview which you can read below.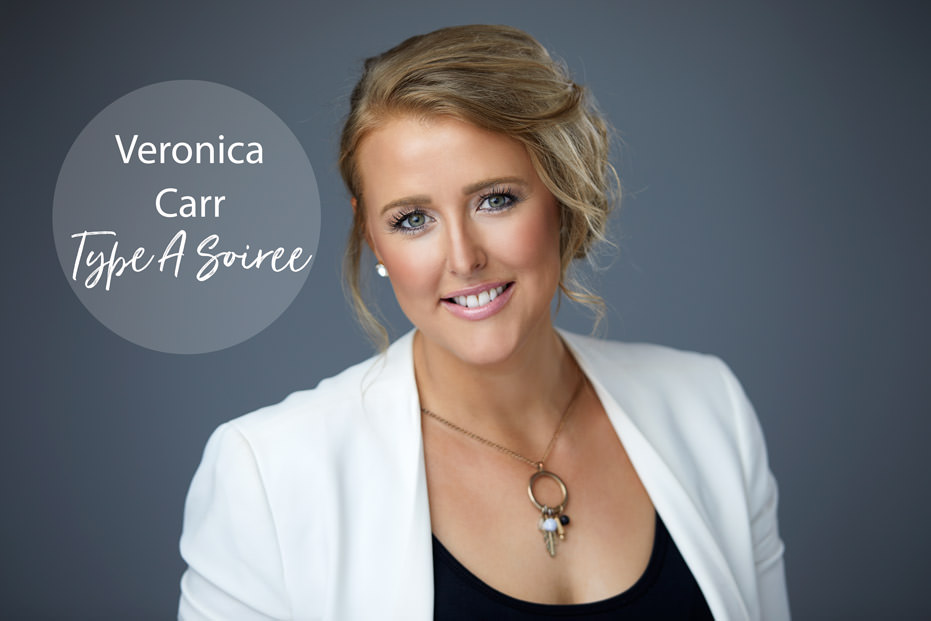 1. Business Name: Type A Soirée
2. When did you start? I began planning events when I was only 15; but after moving to San Diego in 2004, I was working on my education and planning on the side. After working with other local planners, and venues, I started Type A Soirée in 2013.
3. How many planners are in your company? I am the owner and head coordinator, with a couple of assistant coordinators and multiple interns.
4. How many weddings do you plan per year? Typically we plan around 22 weddings, with some corporate events, special events and themed parties peppered in between.
5. What services do you provide? We provide everything from Full Service to Month of, with custom packages in between.
6. What is your post popular service? Our most popular package is usually our partial service option, but we always like to build custom packages to best fit our client's needs and budget.
7. Do you solely focus on SoCal or destination weddings also? We mostly focus on Southern California (La, Orange County, Temecula, occasionally Santa Barbara and San Luis Obispo), Palm Springs, and Baja.
8. What is the most extravagant wedding you planned? The most extravagant wedding we have planned was a 1200 person Indian Wedding, here in San Diego. Due to the guest's in attendance, we are not able to share the images, per the family's request. That part kills us. Outside of that, we have planned quite a few over the top nuptials. Check out TypeASoiree.com for our gallery of weddings.
9. Tell us about any awards or achievements that you're most proud of: We have been runner up for San Diego A List's Best Wedding Planner since the inception of Type A Soirée. It was an honor to be nominated, and to have maintained a top two spot over the last four years, speaks to our reputation. In addition to this, we have also been recognized by Fine Magazine, as one of San Diego's Best Wedding Planner. Additionally, we have been featured in well over a dozen magazine and blogs.
10. Share the link of the wedding you are most proud of and why? I don't think I have one single wedding I am the most proud of. No two weddings and no two bride's are alike, so each is so different, special, and challenging in its own way.
12. What are your top 3 tips for couples getting married? Number one, is GET A COORDINATOR! You don't have to book a full service planner to have a stress free day. Whether it is us, or someone else, we have never had clients regret the decision to bring us on board. We have, on the other hand, had brides opt out, only to reach out to us after their wedding and weep about what a mistake and nightmare it was.
Number two, know that the big day is going to cost you more than you originally anticipated.
3rd, and lastly, remember that your wedding day is the start of your new journey. If you have been with your partner for a year or five years, it still is the start of something new; and sometimes when the wedding is over you feel like it's the end of something. You have spent so much time and money on this event, that when it's over it almost feels like a loss, but it is truly the most beautiful kick off to your new chapter.
We look forward to hearing how we can make your big day, the most memorable day of your life, to date.
Reach out to us at 805.260.8709
VCarr@TypeASoireeEvents.com