We love when couples choose meaningful locations as potential engagement photo ideas. Anything that makes the location more meaningful for the couple is the best option when thinking of locations where to go for an engagement session. Monica and Steve met at Carmine's Restaurant on Rush Street in Chicago over 6 years ago. Monica was working as a hostess at the restaurant. Steve was friends with the restaurant's owner. They haven't stopped thinking about each other since their first encounter at the restaurant. We absolutely love that they included Carmine's as one of the places for their engagement session. They sat at a table drinking wine will we acted like paparazzi trying to capture the special moments exchanged between them. Monica and Steve have such a great proposal story which happened over last Christmas. It all started with Monica asking Steve to replace the star on top of the Christmas tree since it had burned out. Steve came home with three angel toppers for the tree; a gold one, a silver one and a red one for Monica to choose from. After all three were laid out on the kitchen island of their home, Monica found, hidden underneath the red angel tree topper, her engagement ring. Oh by the way, Steve happened to record the whole proposal on video.
For the last photo of the session, we really wanted to capture an urban feel of Bridgeport. Steve's car was the perfect touch for this. To make them stand out more in the car we put 2 ice lights on their laps, they didn't seem to mind :)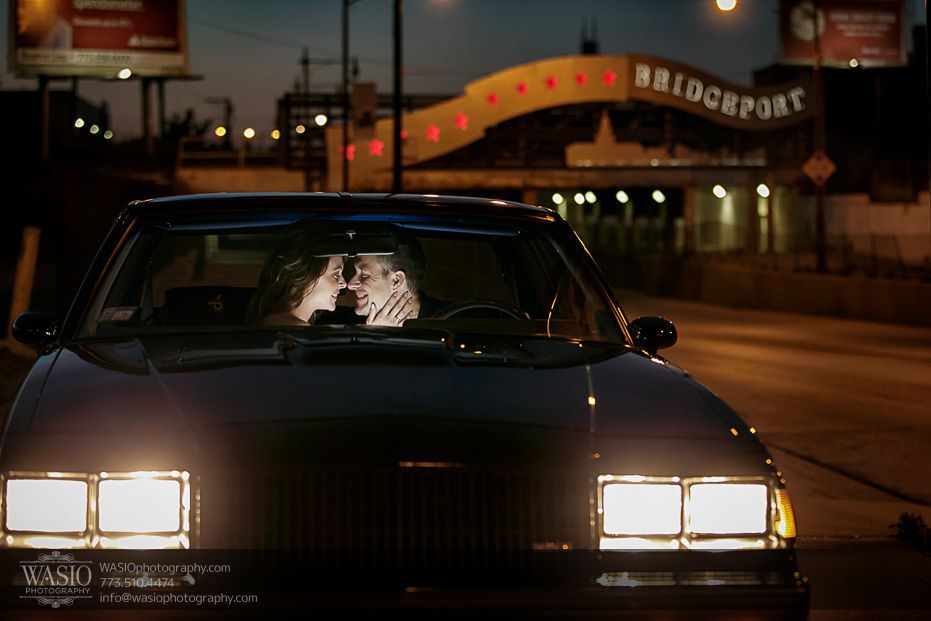 We hope you enjoyed Monica's and Stephen's Chicago engagement photo ideas. If you or someone you know is looking for a Chicago wedding photographer to photograph the memorable wedding moments, we would love to hear from you. Contact us to check our availability and which wedding photography collection will be the best for you. Please drop us a line using our wedding photography contact form. These engagement photos were captured by Yaneck and Sasha.