With the colder weather I have had the chance to capture more Chicago family photography sessions in our studio. Firstly, photographing in the studio is a major plus because of the consistency with the lighting. Little children are quick and it's important to have the right set up so they can be in and out. Ellie is 7 months old and Hannah will be 2 years old in August. Secondly, Mike Schacht who is an amazing Chicago headshot photographer created the awesome canvas backdrop I used for this session. Not too many children photographers use these types of canvases. I like them because they are rich in texture and can work with multiple looks.
I was so excited that Ellie was able to fit in this rustic wooden crate with the sheep skin rug. Since Ellie cannot sit stable by herself yet, this was the perfect combo.
It's amazing how much Ellie has changed in the first 7 months of her life. When I did her newborn session she was a completely different baby. During her newborn session there was lots of crying going on and this time she was the perfect model (knock on wood).
My favorite moments when Hannah was showering Ellie with kisses :)
It's not easy to sit still but I love this moment too. Their personalities are revealed in a way.
Hannah is a daddy's girl! He even did her hair for this photo. How precious is that?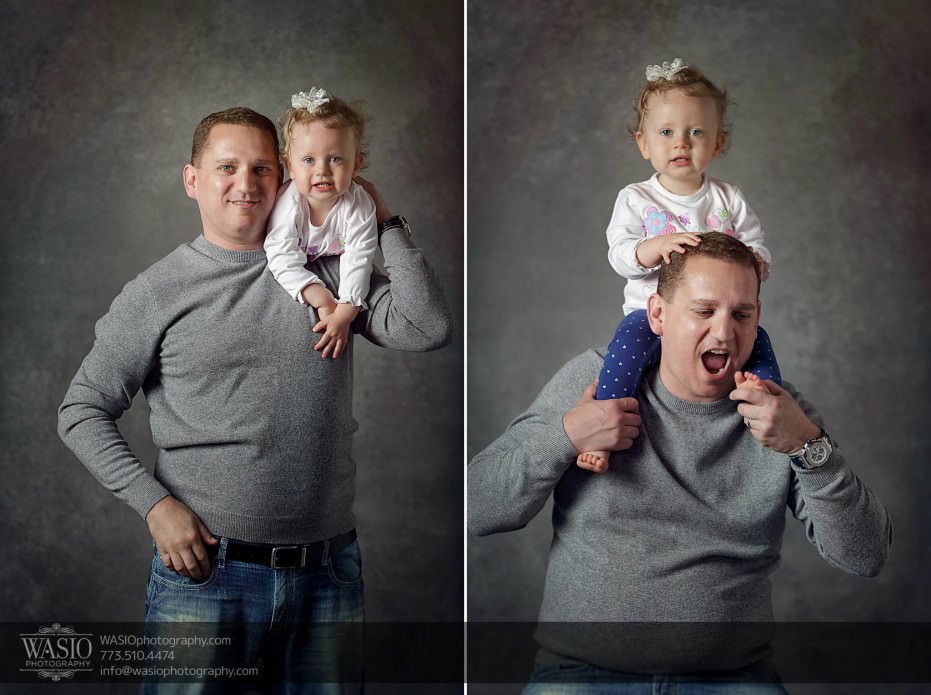 It's a great idea that the girls were wearing matching outfits. Also, notice that Yelena and Michael were wearing nice solid colors and it looks very flattering in the photos.
We hope you enjoyed this Chicago family photography session. If you or someone you know is looking for a Chicago family photographer please have them fill out the contact form here. This session was photographed by Sasha.